Ubicandonos a mediados de los 70's en pleno auge Punk, los Misfits nos vienen a enseñar una nueva faseta de este genero, distinta a los Sex Pistols o The Clash que basicamente tienen un estilo agresivo y de tono politico, los Misfits mas bien tratan en sus canciones temas de peliculas de horror o de ciencia ficcion, tienen unlook diferente y distintivo de la banda, el "Devilock". Esto es lo que me fascina de ellos: No hablan de politica! A pesar de ser Punks (del subgenero Horror Punk), tener canciones de no mas de 3 minutos, 3 acordes basicos y la actitud agresiva del Punk, no se meten en lo politico, y no hacen ruido solo por hacer ruido. Las canciones de "amor" por ejemplo, son magnificas: Siempre el protagonista terminando matando a su amada. Encuentro notables, bacilonas e ingeniosas letras como "If I cut off your arms and cut off your legs, Would you still love me anyway?" o "Die, die, die, my darling, just shut your pretty mouth".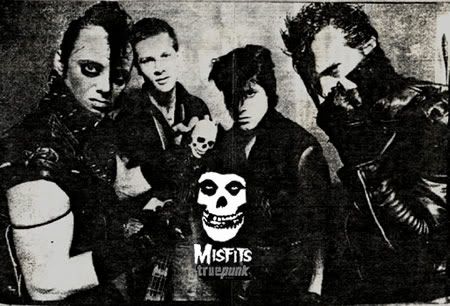 Muchos los critican de "poseros", y no puedo evitar reirme de tamañan ingenuidad... estos tipos llevan mas de 30 años haciendo rock del bueno, influenciando a montones de bandas que admiten a Misfits como inspiracion musical y los tributan en sus carreras como Metallica, Pantera, Guns n' Roses, NoFX, Green Day, Cradle of Filth and many many more....
Hay dos etapas bien marcadas para los Misfits:
Primera etapa con Glenn Danzig


Esta, para mi, es la epoca de oro para los Misfits, con Glenn Danzig como vocalista (si, el mismito de la banda de rock "Danzig" de los 90), Jerry Only en el bajo y Manny Martinez. La energia que son capaces de transmitirte a traves de canciones grabadas con poco presupuesto y por unos jovenes "frikis" que se vestian medio raro es impresionante. Las canciones son rapidas, de ritmo acelerado pero con mucho feeling, y la voz de Danzig le da una sazonada a toda la composicion. Tal ves no eran grandes musicos pero lo que les sobraba era actitud. Los temas son simples, sobre alguna peli de terror antigua, algun joven discriminado, alguna locura. Lo curioso es que en este periodo nunca pudieron grabar un disco completo, solo sacaron singles y LP's que inicialmente fueron pensados para el disco "Static Age" y que se dividio en sesiones que fueron lanzadas a lo largo del tiempo. Estas sesiones fueron grabadas en 1978, pero el disco Static Age como tal no vio la luz sino hasta 1997.
Bullet [EP] (1977)





























Lado A
"Bullet" - 1:37

"We Are 138" - 1:40
Lado B
"Attitude" - 1:28

"Hollywood Babylon" - 2:17
Descarga
The Misfits - Bullet [EP]
Horror Bussiness [EP] (1979)
Tracklist



1.- Horror Business - 2:42
2.- Teenagers From Mars - 2:41
3.- Children In Heat - 2:05
Descarga
The Misfits - Horror Bussines [EP]
Night Of The Living Dead [EP] (1979)
Tracklist



1.-"Night of the Living Dead" – 2:02
2.-"Where Eagles Dare" – 1:51
3.-"Rat Fink" – 1:50
Descarga
The Misfits - Night Of The Living Dead [EP]
Static Age (1978 - 1997)
Tracklist
1 "Static Age" – 1:46
2 "TV Casualty" – 2:23
3 "Some Kinda Hate" – 2:00
4 "Last Caress" – 1:55
5 "Return of the Fly"
– 1:34
6 "Hybrid Moments" – 1:40
7 "We Are 138" – 1:40
8 "Teenagers from Mars" – 2:48
9 "Come Back" – 4:57
10 "Angelfuck" – 1:36
11 "Hollywood Babylon" – 2:17
12 "Attitude" – 1:28
13 "Bullet" – 1:36
14 "Theme for a Jackal" –
2:35
15 "She" – 1:22
16 "Spinal Remains" – 1:24
17 "In the Doorway" – 1:24
Descarga
The Misfits - Sta
tic
Age
Walk Among Us (1982)
Tracklist
1)20 Eyes
2)I Turned Into A Martian
3)All Hell Breaks Loose
4)Vampira
5)Nike A Go Go
6)Hatebreeders
7)Mommy, Can I Go Out And Kill Tonight(live)
8)Night Of The Living Dead
9)Skulls
10)Violent World
11)Devil's Whorehouse
12)Astro Zombies
13)Braineaters
Descarga
The Misfits - Walk
Among Us
Earth A.D. (1983)
Tracklist
1 Earth A.D
2 Queen Wasp
3 Devilock
4 Death Comes Ripping
5 Green Hell
6 Wolfsblood
7 Demonomania
8 Bloodfeast
9 Hellhound
10 Die Die My Darling
11 We Bite
Descarga
The Misfits -
Earth A.D.
Segunda etapa con Michale Graves


Cuando Danzig decidio salirse de la banda en 1983, hubo un periodo de inactividad para los Misfits. Jerry Only ahora como cabeza del grupo siguio usando el nombre "The Misfits" para la banda lo que molesto a Danzig, comenzando asi una pelea judicial por el nombre del grupo, para finalmente luego de unos 12 años de lucha, Jerry Only se queda con todos los derechos del grupo. Con un nuevo vocalista, Michale Graves, estos nuevos Misfits se reinventan y son totalmente diferentes a los antiguos... El sonido es mas pesado, la forma de cantar de Graves es distinta y mas dura, el look de la banda es mas potenciado, convirtiendose el "Crimson Ghost" uno de los iconos mas emblematicos y vendidos del mundo del Rock.


American Psycho (1997)
Tracklist
1 Abominable Dr. Phibes
2 American Psycho
3 Speak of the Devil
4 Walk Among Us
5 The Hunger
6 From Hell They Came
7 Dig Up Her Bones
8 Blacklight
9 Resurrection
10 This Island Earth
11 Crimson Ghost
12 Day of the Dead
13 The Haunting
14 Mars Attacks
15 Hate the Living, Love the Dead
16 Shining
17 Dont't Open Til Doomsday
Descarga
The Misfits - American Psycho
Famous Monsters (1999)
Tracklist
1 Kong at the Gates
2 The Forbidden Zone
3 Lost in Space
4 Dust to Dust
5 Crawling Eye
6 Witch Hunt
7 Scream!
8 Saturday Night
9 Pumkin Head
10 Scarecrow Man
11 Die Monster Die
12 Living Hell
13 Descending Angel
14 Them
15 Fiend Club
16 Hunting Humans
17 Helena
18 Kong Unleashed
19 1000000 Years Bc
20 Devil Doll
21 Helena 2
Descarga
The Misfits - Famous Monsters

Pass: www.rock-from-hell.blogspot.com