Ahora deleitemonos con algo de Psychobilly actual. Si nunca has escuchado en tu vida algo de psychobilly, lo unico que puedo comentarte es que te estas perdiendo la mitad de tu vida. Este subdenero dentro del Rock nace por ahi en los 80's cuando una extraña y bizarra banda llamada The Cramps incluye un calificativo para su musica en sus volantes de promocion: Musica Psychobilly. Pero en ese entonces nadie sabia exactamente lo que significaba hacer "musica psychobilly", ni siquiera los Cramps. Aunque en realidad los primeros en tocar esta musica fueron The Meteors, en 1980 usando una formula magica: un integrante del grupo pertenecia a la cultura Rockabilly, otro integrante pertenecia a la cultura Punk, y el otro integrante era fanatico de las peliculas de terror. Resultado: Psychobilly.
Pero centremonos en el Psychobilly actual, que es un poco distinto al de antaño: Es grato encontrarse con grupos como los Koffin Kats, jovenes que cuando niños crecieron escuchando a Elvis Presley o Johnny Cash, porque sus papás eran fanaticos de ellos. Luego cuando fueron adolescentes se enamoraron del Punk y ahora que son mas grandes y deciden formar una banda, deciden unir estos dos estilos de musica que los apasionan de distinta forma y asi obtener una calidad increible en la forma de hacer musica.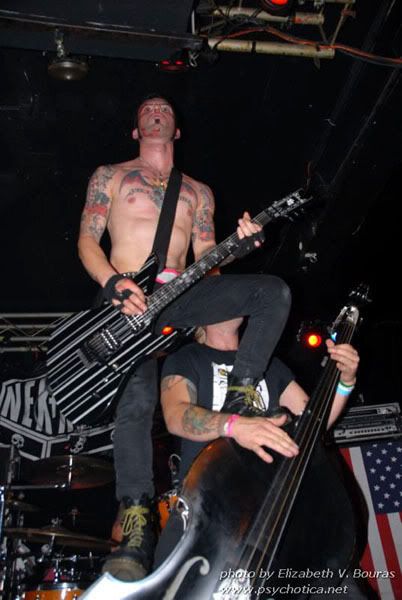 Pero podria seguir extendiendome para reseñar a los Koffin Kats. Vic Victor, el vocalista, tiene un voz... una voz... es que... mmm... solo puedo decir que si Elvis fuera Zombie cantaria como Vic Victor, y mas encima como si esto fuera poco toca el Contrabajo como los dioses, a toda velocidad como el Punk, o haciendo melodias tipicas de Rockabilly. Ademas Tommy Koffin hace un trabajo impecable en guitarra, tambien mezclando esa agresividad del Punk pero tambien agregando la capacidad ritmica del rockabilly. Y que decir en bateria... DamianDetroit sabe como hacer su trabajo y agregar lo que se necesite en el momento que sea.

Mi consejo es que te bajes el

Inhumane

de los Koffin Kats para empezar (que para mi es el mejor disco) y si te gusto, pues sigue enviciandote con los demas trabajos de este super trio gringo.
Koffin Kats (2003)
Tracklist



1. Mors Ex Supera
2. Graveyard Tree
3. Red Alert
4. V8 Nightmare
5. Koffin Kat Rock
6. Sleep
7. One Revived
8. Needles & Blades
Descarga

Koffin Kats - Koffin Kats - 2003
Inhumane (2005)
Tracklist
01.-Mors Ex Infernos
02.-Hatred
03.-Darker Place
04.-Caught Up
05.-Chainsaw Massacre
06.-Vampires Curse
07.-Demon Demon
08.-She's Deadly
09.-Melt Down
10.-Die Cat Die
11.-Graveyard Tree II
12.-Hitlist
13.-Perfect Suicide
14.-Purgatory
15.-2084
Descarga
Koffin Kats - Inhumane - 2005
Straying From The Pack (2006)
Tracklist
1 March Of The Waynos
2 platterhouse Obtener
3 Setting Her Free
4 Mechanical Youth
5 Graveyard Tree III
6 Crack Rock
7 Buzzkill Bitch
8 For Hire
Descarga
Koffin Kats -
Straying From The Pack 2006
Drunk In the Daylight (2008)
Tracklist
1. Storm Ahead
2. If I Return
3. Loud and Hard
4. Blood
5. Drunk in the Daylight
6. A Vampire's 2084
7. Battery Acid Baby
8. Laws of Sanity
9. Above Me, Beyond You
10. At the Bar
11. Bad Apple
12. The Experiment
13. Blue-Eyed Drug
14. Theme for a Sinner
15. Chaos
16. Well-Oiled Machines
17. Our Faded Funeral
Descarga
Koffin Kats - Drunk In The Daylight 2008
Pass: www.rock-from-hell.blogspot.com